CVADD Impact During COVID-19 Pandemic
June 1, 2020 (London, KY): Despite the COVID-19 Pandemic, the Cumberland Valley Area Development District staff has been able to continue providing services in Bell, Clay, Harlan, Jackson, Knox, Laurel, Rockcastle, and Whitley Counties. Here are a few of the many things our staff was able to accomplish while social distancing since March 2020:
Provide over 66,000 meals to Senior Citizens
Submitted 1 Transportation BUILD Grant for $26 million total
Submitted 4 Homeland Security Grants for $338,758 total
Submitted 2 Land & Water Conservation Fund Grants for $254,600 total
Submitted 3 Recreational Trails Program Grants for $410,178 total
Submitted 1 Rural Public Transit Planning Grant for $30,000 total
Completed Bicycle & Pedestrian Master Plan for City of Corbin
Updated database of Roadway Center Lines
Updated 911 Mapping for Harlan County
Assisted 23 Families with Car Seat Checks
Assist unemployed workers in job searches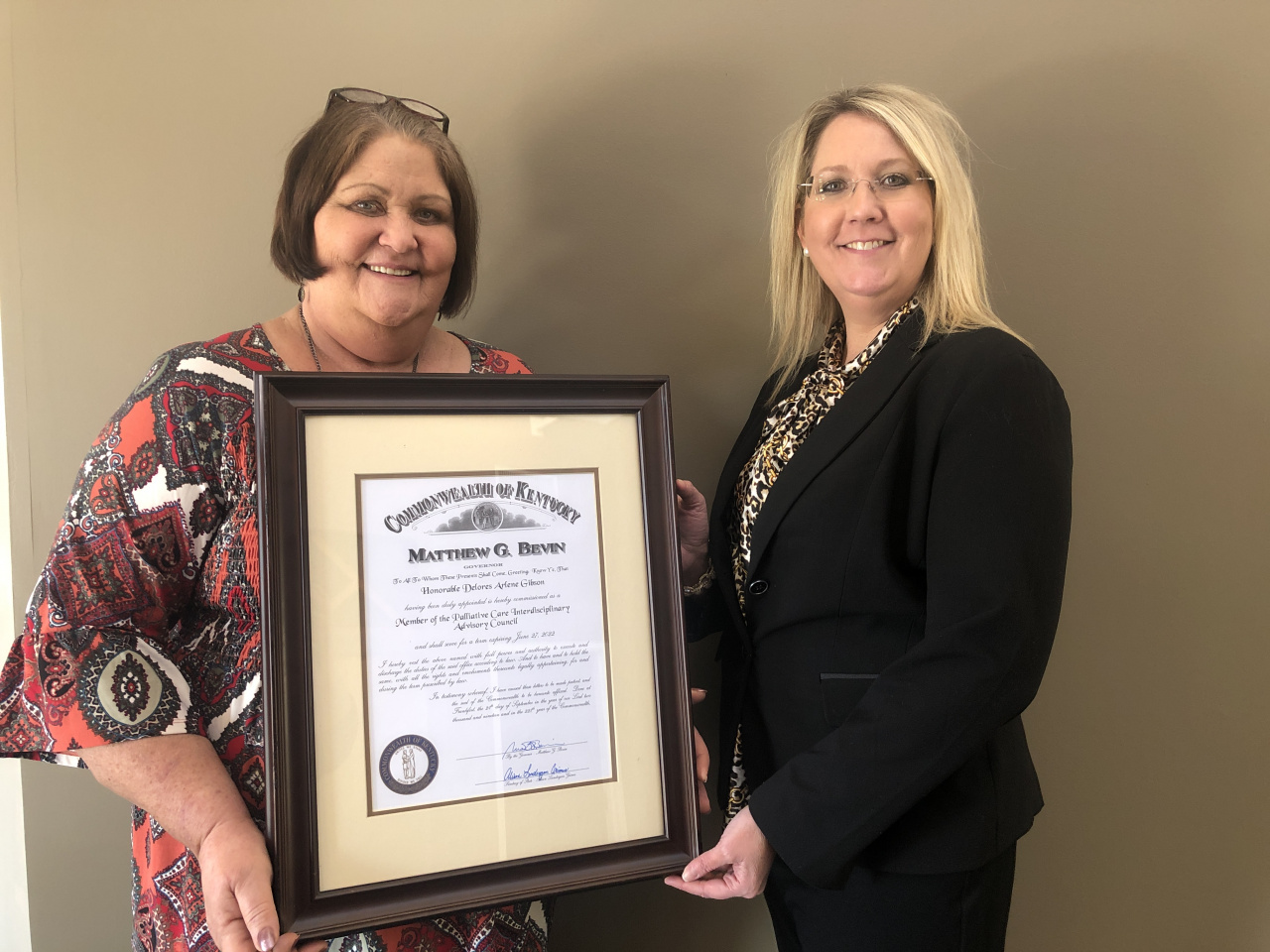 Kentucky Governor appoints CVADD employee to state board
February 19, 2020 (London, KY): During today's CVADD Board of Directors Meeting, Arlene Gibson, District Long Term Care Ombudsman, was recognized. Arlene was recently appointed by Kentucky's Governor to be a member of the Palliative Care Inter-disciplinary Advisory Council. She will be serving on the council through June 2022. Pictured are Arlene Gibson (left) with Executive Director, Whitney Chesnut. In 2019, Kentucky Senate Bill 65 was signed into law to help establish a Palliative Care Interdisciplinary Advisory Council as well as a Professional Information and Education Program in Kentucky. It is an honor that Arlene was chosen to serve on the board after her years of service providing assistance as Long Term Care Ombudsman for our area.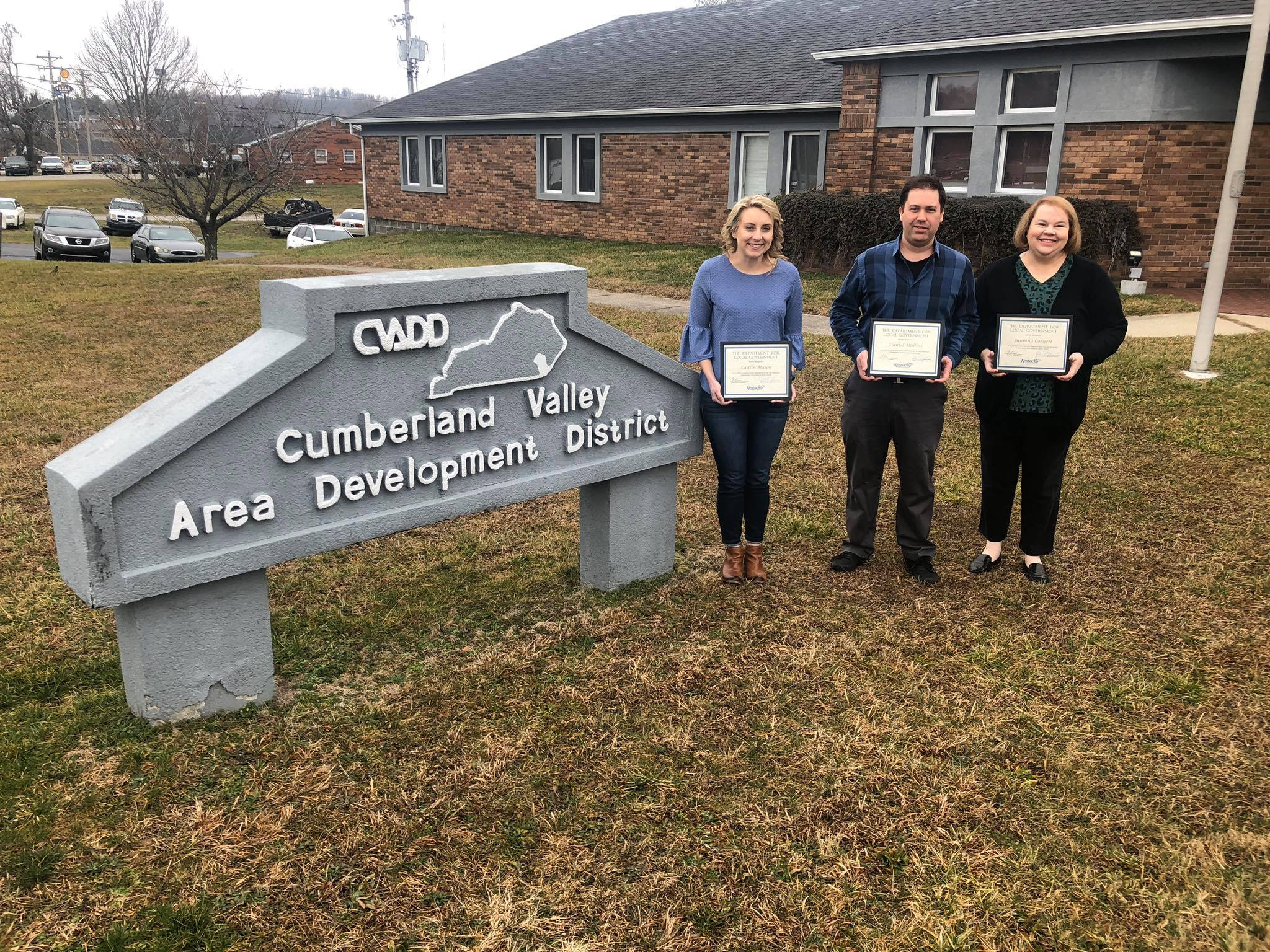 CVADD employees get certification for CDBG Grants
February 3, 2020 (London, KY): Three members of the CVADD staff are now certified Community Block Development Grant administrators. Caitlin Mason, Public Administration Specialist; Dan Mullins, Water Management Coordinator; and Susanna Cornett, Economic Development Specialist attended a three-day CDBG training in December, and were recently notified that they passed the certification exam. CVADD communities have received millions in CDBG grants over time, and each grant requires monitoring by a certified CDBG administrator. With CVADD Executive Director Whitney Chesnut also a CDBG certified administrator, CVADD has the capacity and expertise to manage any CDBG grant our communities are awarded. Let us know if your community is interested in applying! For more information, visit www.cvadd.org or call 606-864-7391.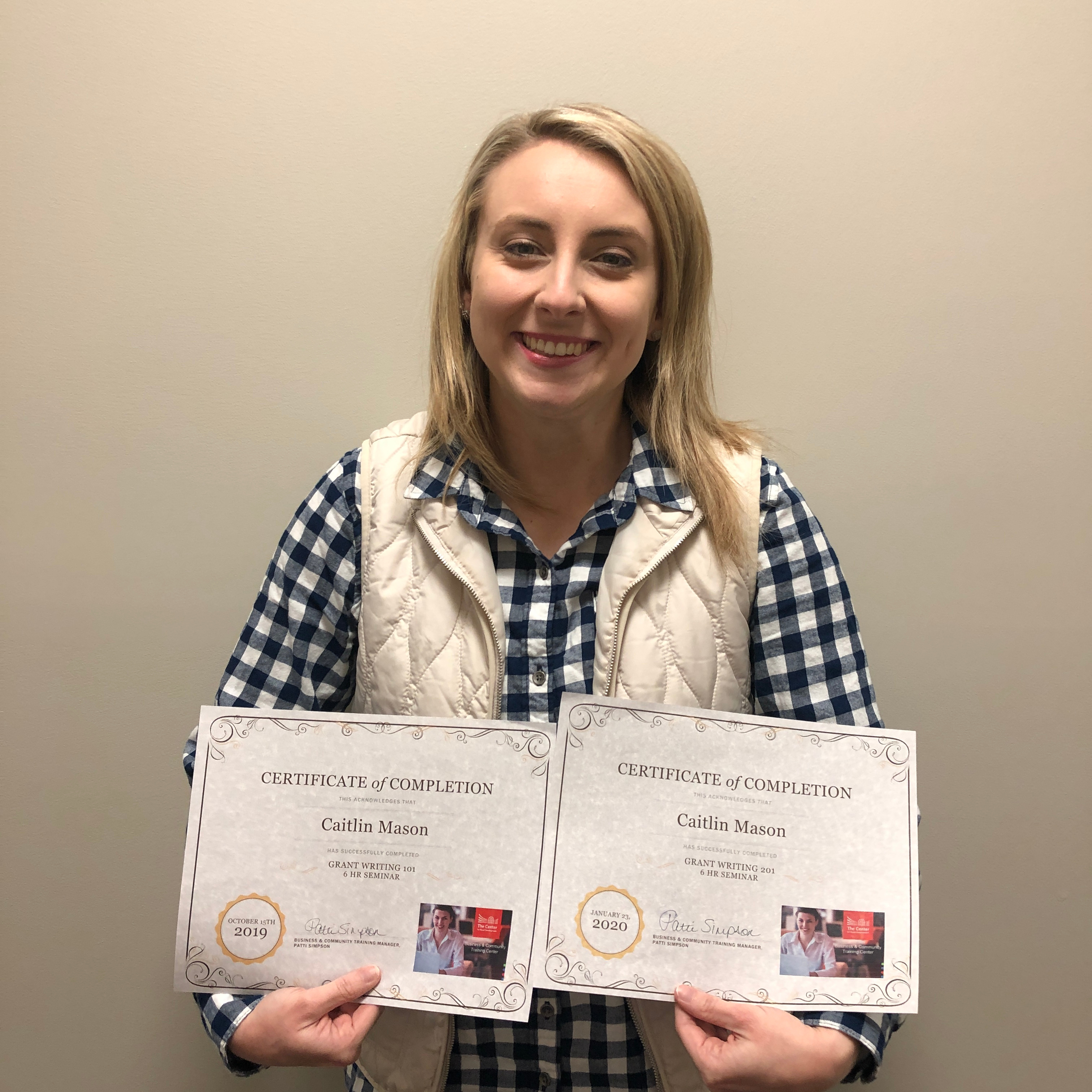 CVADD Public Administration Specialist completes Grant Writing Training
January 27, 2020 (London, KY): CVADD employees continue to attend training to ensure that they are updated on the latest regulations on various programs. Caitlin Mason, Public Administration Specialist, has completed Grant Writing 101 and Grant Writing 201 Training. These workshops provided information on general grants, as well as Federally funded grants. Caitlin has been assisting communities with Land & Water Conservation Grants, Recreational Tails Program Grants, and Rural Development Grants, all of which are currently open.
If you have any questions on grant writing, be sure to contact Caitlin at (606) 864-7391 or cmason@cvadd.org.
Find out more on Community and Economic Development projects at http://www.cvadd.org/community-and-economic-development.html.
CVADD Highway Safety Coordinator attends Highway Safety Task Force meeting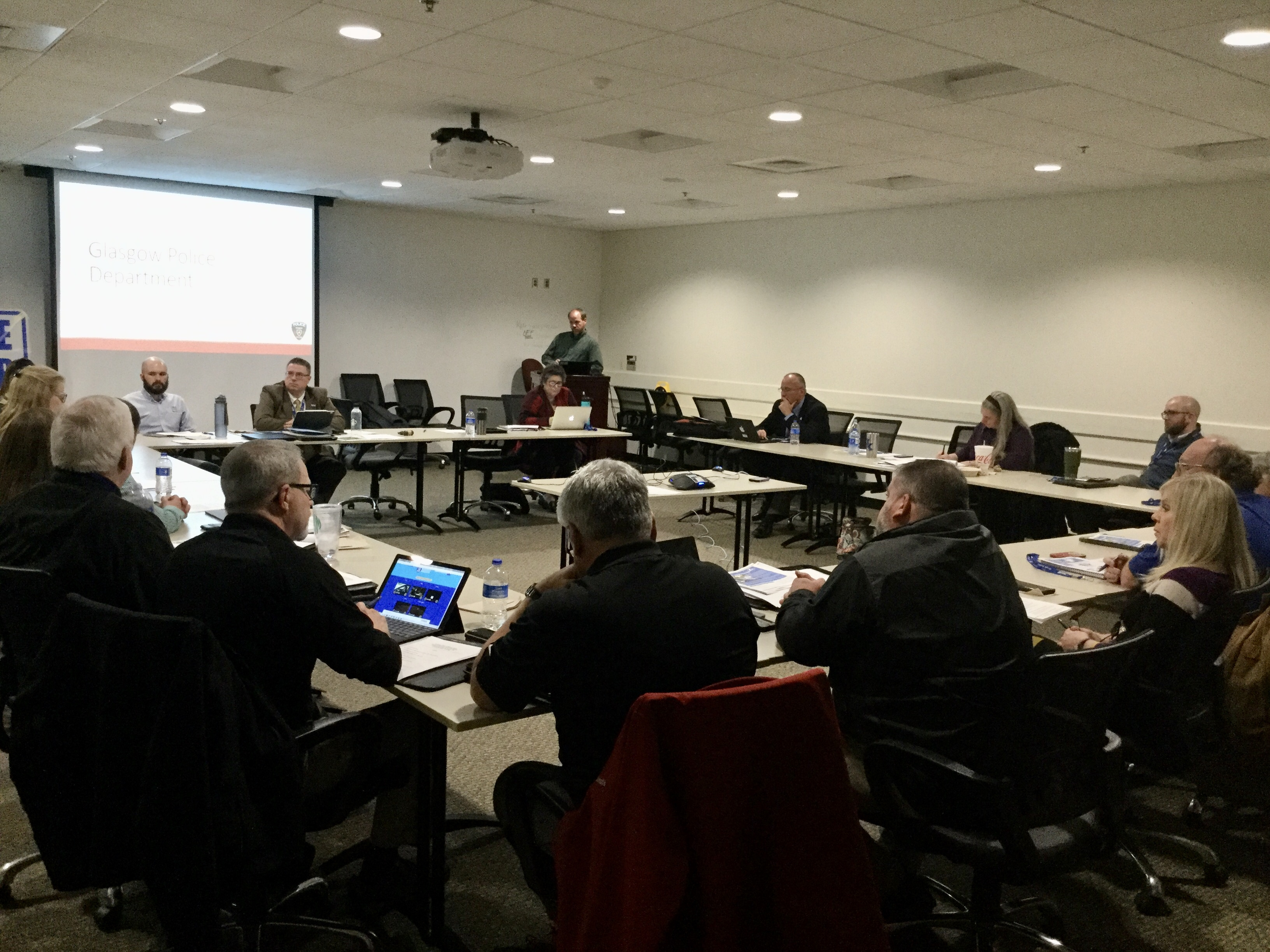 January 22, 2020 (Frankfort, KY) - Dreama Wright, CVADD Highway Safety Coordinator, serves on the Kentucky Office of Highway Safety Occupant Protection Task Force. They recently had a meeting at the Kentucky Transportation Cabinet in Frankfort, Kentucky, on January 22, 2020. Federal, state and local highway safety partners attended the meeting with one goal in mind - to save lives on Kentucky roadways. For more information on Highway Safety programs with the CVADD, click here.

CVADD Regional Transportation Planner meets Kentucky Governor Andy Beshear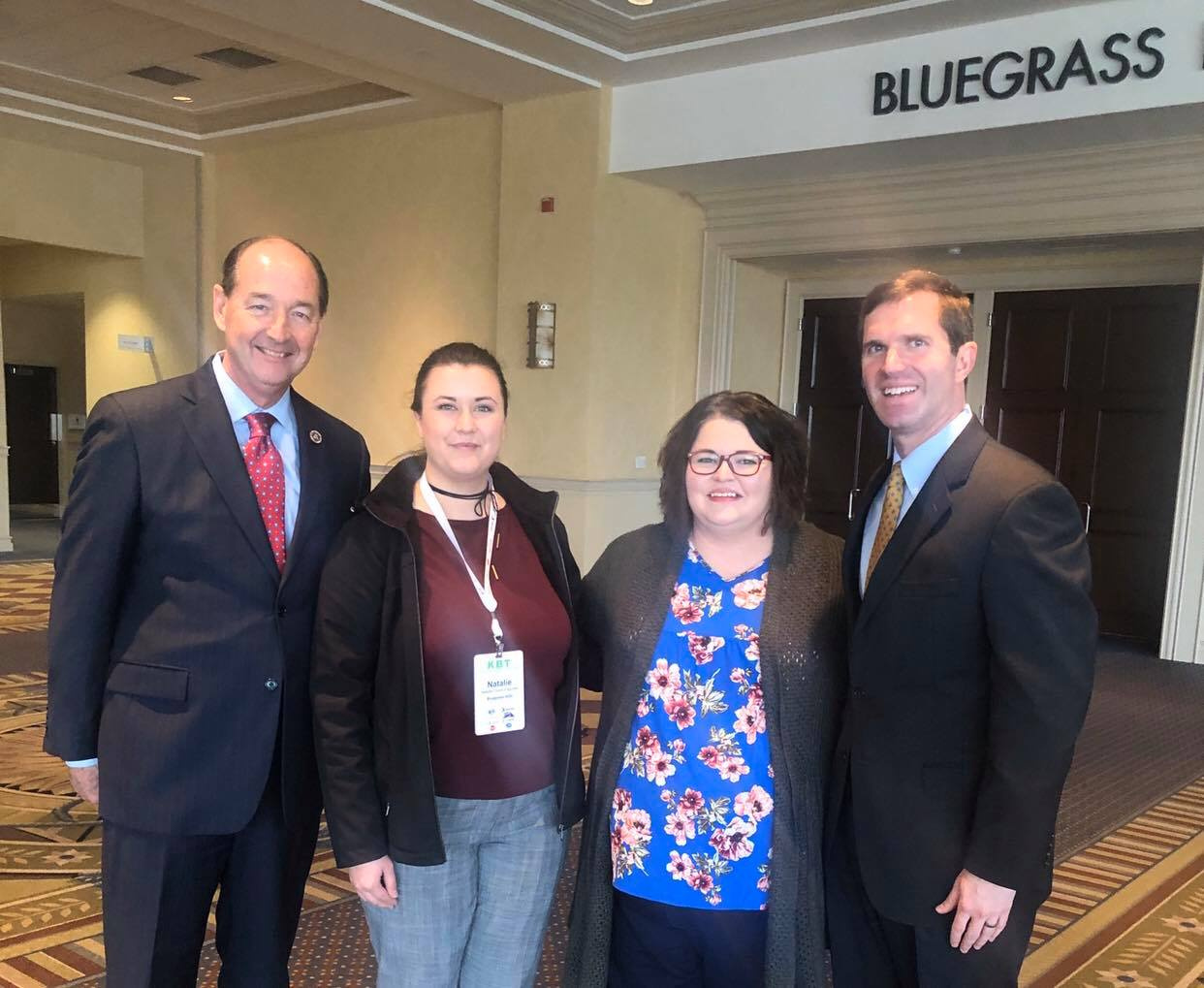 January 17, 2020 (Lexington, KY) - During the Kentuckians for Better Transportation Conference, CVADD Regional Transportation Planner, Jessica Blankenship, met with Kentucky Governor, Andy Beshear, and Mr. Rocky Adkins on transportation issues in southeast Kentucky. Governor Beshear commended the work that all of the Area Development Districts do in Kentucky and the impact they have made for communities.

Pictured left to right are Rocky Adkins, Natalie Flores of Bluegrass Area Development District, Jessica Blankenship, and Governor Andy Beshear.
For more information on Regional Transportation Planning and the Regional Transportation Committee, click here.
Cumberland Valley Area Development District hosts
Child Passenger Safety Certification Training

January 17, 2020 (London, KY): Sharon Rengers, State Child Passenger Safety Coordinator along with Dreama Wright, CVADD Highway Safety Coordinator, held a Continuing Education class at the CVADD office. Several Law Enforcement agencies, Hospital, Fire Departments and the Kentucky Department of Transportation were in attendance from local to statewide agencies.
As the certifying body for the National Child Passenger Safety Certification Training Program assures that all certified CPS technicians have the knowledge and skills to:
1. Advise and educate families on selection, direction, location, installation, and harnessing of child safety seats. 2. Identify and correct misuse or incorrect child safety seat installation. 3. Correctly install child safety seats in a variety of motor vehicles according to vehicle and child restraint manufacturer instructions.
Your initial certification is based upon attending a national training course, passing the written testing (three written quizzes), demonstrating technical CPS skills (three skills tests) and participating in a mandatory "clinical" session, or as it is known in the CPS community, a checkup event. While a certification is valid for two years, every CPST has an obligation to maintain their technical skills, adhere to the standards of the National CPS Certification Training curriculum and uphold the code of conduct. The child passenger safety field is a constantly changing environment with new products and technology being introduced regularly.
The CPS certification program requires completion and online documentation of three elements for re-certification:
1. 5 Seat Checks: These are fully reviewed by a CPS Instructor or Technician Proxy: The 5 seat check requirement documents that technicians have maintained and can demonstrate their CPS technical and communication skills. This requirement is similar to law enforcement officers periodically returning to the firing range to re-qualify and demonstrate their expertise with firearms. 2. 6 Continuing Education Units (CEUs): The 6-hours of technical education help technicians stay up-to-date with innovations in vehicle and child restraint technology, new guidelines, best practices and the scientific evidence that supports child safety seat use. 3. Community Education: Participation in community education demonstrates that you are a practicing technician applying your CPS skills and knowledge in the field or learning new communication skills to better serve the community.
This is what is required of a nationally certified technician and one that as an educator you can build upon. There is always room for improvement and many ways to approach it. Everyone, no matter how long they have been a tech, has room to improve their technical skills. Identify your technical needs, is it learning about a new seat that you haven't seen yet? Perhaps it is reviewing and tweaking your communication skills with families and your fellow technicians. It could simply be refreshing yourself by reaching out to people in a diverse community. The field of child passenger safety provides many opportunities for innovative thought and professional growth.
For more information on becoming a CPS tech, please contact Dreama Wright at (606) 864-7391.
CVADD Board of Directors honor Mike Hamm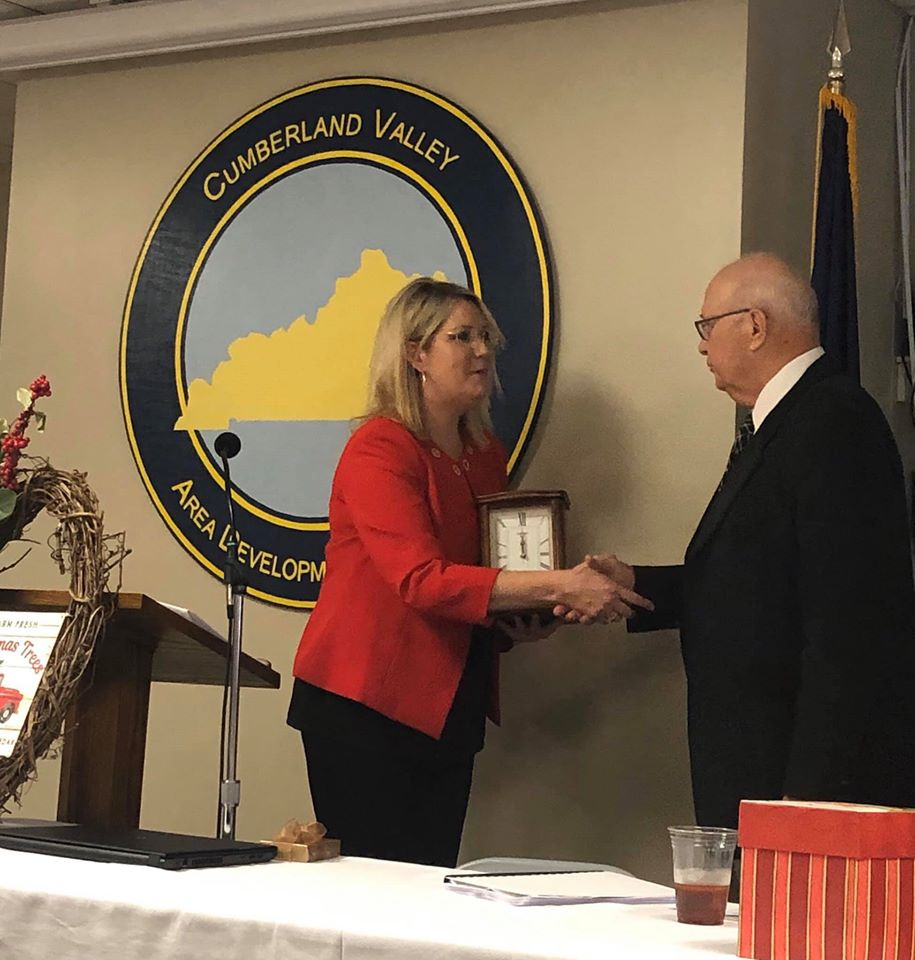 December 18, 2019 (London, KY) - On December 18, 2019, the Cumberland Valley Area Development District honored long time board member Mike Hamm with the Make a Difference Award. The award is given to those that have served the board for a long time, as well as shared their thoughts and ideas to help make the area a better place to live, work, and play. Pictured are CVADD Executive Director, Whitney Chesnut, along with Mr. Mike Hamm.
NADO Official visits Cumberland Valley Area Development District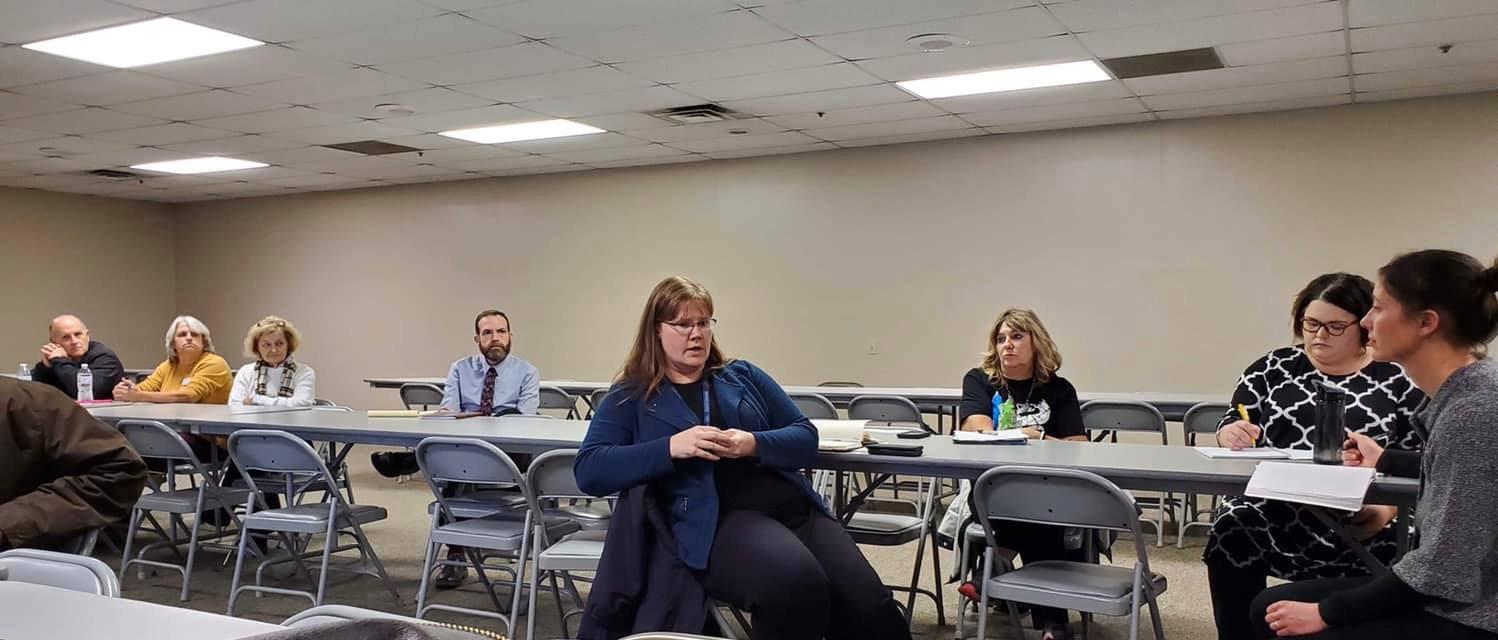 December 9, 2019 (London, KY) - The Cumberland Valley Area Development District was happy to host NADO Associate Director, Carrie Kissel, on December 9, 2019. On Monday, she lead a listening session with community members in health, workforce, county/city government, public transit, chamber of commerce, economic development, and corrections. Ideas were explored to address the transportation mobility issues in the community. On Tuesday, Carrie and Jessica Blankenship from CVADD attended a Rural Substance Abuse Disorder Transportation, Funding, and Recovery Workshop at the University of Tennessee. Carrie and Jessica will be working with partners to host a similar workshop in Kentucky.
CVADD Employee graduates from BRIGHT Kentucky Leadership Program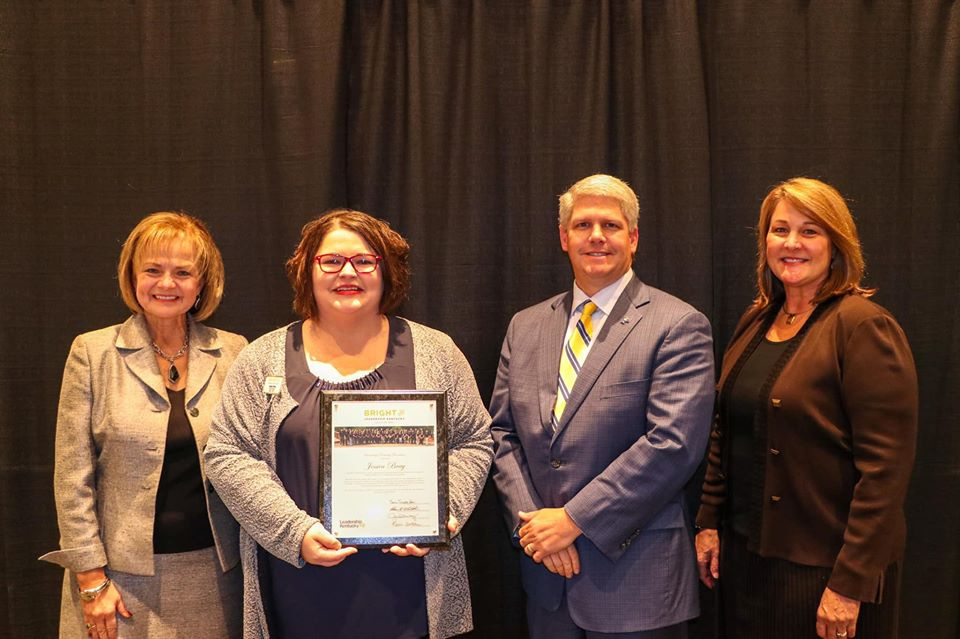 Janice Way (President of Leadership Kentucky), Jessica Bray (Regional Transportation Planner with CVADD),
Elmer Whitaker (President & CEO of Whitaker Bank) and Teresa Hail (2019 Leadership Kentucky Board Chair)
November 22, 2019 (Morehead, KY) - The inaugural class of BRIGHT Kentucky, a Leadership Kentucky program, graduated in Morehead on Friday, November 22, 2019. Forty-eight civic and community leaders from across the Appalachian region of Kentucky celebrated completion of the program at the Morehead Conference Center. Cumberland Valley Area Development District was represented by Jessica Blankenship, Regional Transportation Planner, who completed the program.
BRIGHT Kentucky is designed to build the capacity of next-generation leaders (average age 20-40) in the Appalachian region of Kentucky to innovate, collaborate, and advance community and economic development. BRIGHT Kentucky engages bright, entrepreneurial minds from all sectors and regions to offer non-partisan, ethical leadership training, expanded networks, and mentors designed especially for residents of the 54 Kentucky counties of the Appalachian Regional Commission (ARC). Following graduation, participants are prepared to think long-term and strategically build upon the strengths of their communities and newly formed networks to lead the region to a more prosperous future.
The program, which ran July through November, took participants across Eastern Kentucky including: Natural Bridge Region in July, Big Sandy Region and Cumberland Region in September, the Daniel Boone Region in October, and the Gateway Region in November. BRIGHT Kentucky is made possible by a $500,000 Appalachian Regional Commission (ARC) grant and private funding from the Whitaker Foundation, SOAR - Shaping Our Appalachian Region, and others. The ARC is an economic development agency of the federal government and 13 state governments, including Kentucky, focusing on 420 counties across the Appalachian Region.
"The BRIGHT program is a call to action. Effective leadership requires action and is best measured by results. The participants have been challenged to identify various projects to improve their region and exercise ethical leadership and regional collaboration to render success," said Elmer Whitaker, former Leadership Kentucky Board Chair and BRIGHT Program Visionary and donor. "Given the quality leaders in the program and the growth obtained through BRIGHT, we are certain their actions will have positive results."
This year's class included 47 participants from 28 different ARC counties representing a variety of public and private sectors.
BRIGHT Kentucky will be have its second class in 2020. Applications for the Class of 2020 will be available in March online at www.leadershipky.org.
Rockcastle County Industrial Development Authority receives Appalachian Regional Commission Grant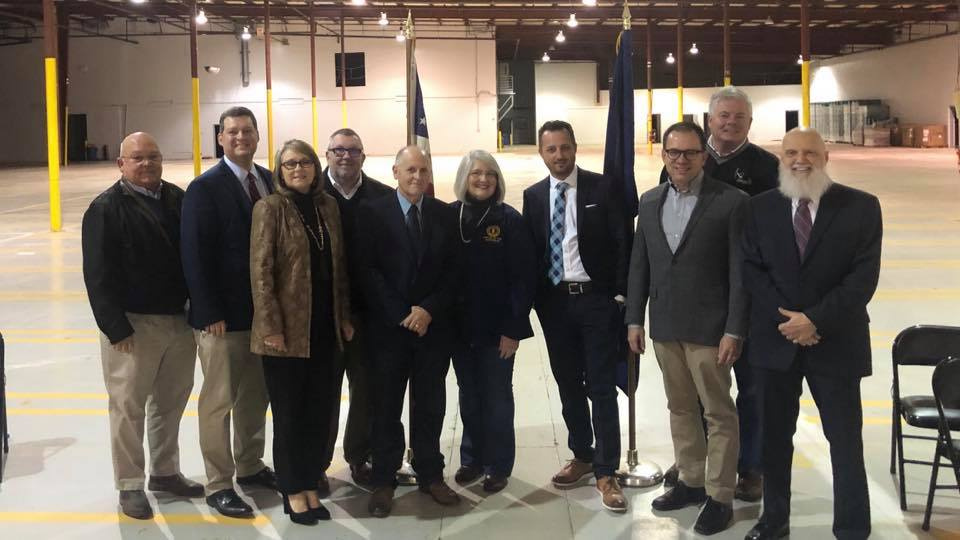 November 3, 2019 (Mt. Vernon, KY) - On November 3, 2019, a first step toward natural gas to Rockcastle County has became a reality through a Appalachian Regional Commission (ARC ) grant. A regional partnership involving Rockcastle County, Lincoln County, and Delta Natural Gas was awarded a $500,000 grant to create a gas tap on a interstate transmission line. The immediate opportunity per the agreement worked out between the partners once the gas tap is completed is Delta Gas will construct a service line to the Lincoln County Industrial Park East of Stanford not currently served by natural gas. CVADD provided assistance on the grant application, along with Southeast Kentucky Economic Development Corporation.
In addition the City of Mount Vernon & RCIDA was also awarded a $1 Million dollar grant for a new business Kentucky Farmaceuticals to be located in Rockcastle County.
CVADD Area Agency on Aging and Independent Living

Declare October Long Term Care Residents' Rights Month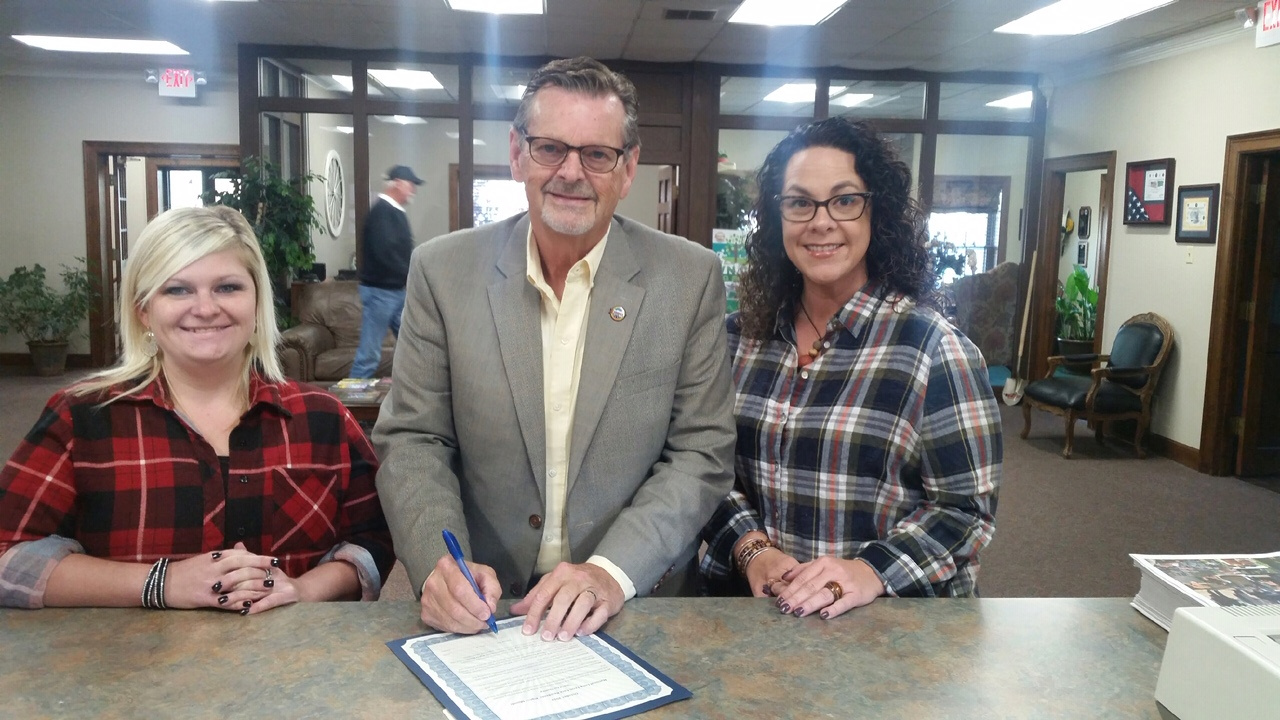 October 15, 2019 (London, KY) - Rachel McFadden, Aging and Disability Resource Center Coordinator and Ombudsman Sarah Mills, Caregiver Program Coordinator at CVADD met with London Mayor, Troy Rudder today as he signed a Proclamation recognizing October 2019 as Long Term Care Residents' Rights Month. This years theme is "Stand for Quality." We very much appreciate the support of Mayor Rudder in honoring our residents with this proclamation. CVADD houses the office of Arlene Gibson who is the Cumberland Valley District Long Term Care Ombudsman. Sara Mills is also a certified Long Term Care Ombudsman. The office of the Ombudsman serves as an advocate for all residents of Long Term Care, Personal Care, and Family Care Homes. The goal of the Ombudsman is to ensure these Resident Rights are honored and the residents and family are informed. Contact info for the Ombudsman is located in all long term care facilities and also by calling office: Arlene Gibson, Cumberland Valley District Long Term Care Ombudsman 606-864-7391 x119.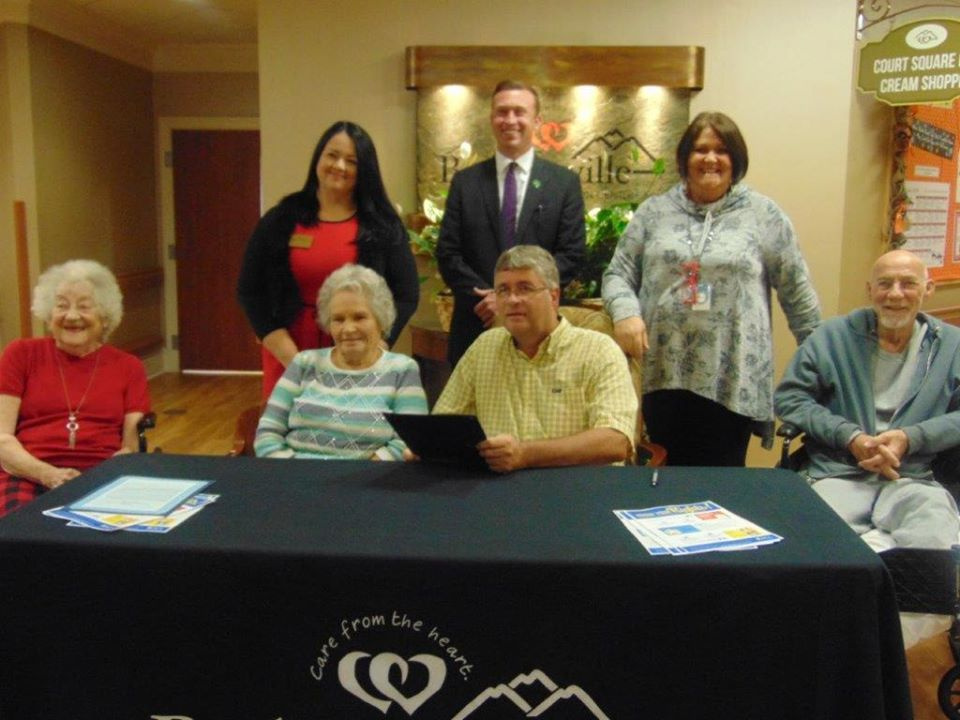 October 15, 2019 (Barbourville, KY) - Mayor David Thompson visited with residents at Barbourville Health and Rehabilitation during the signing of a Proclamation declaring October 2019 as Residents' Rights Month in his community, urging local citizens to do the same. Pictured from left to right seated is resident Wilma Jean Branstutter, resident Martha Grubb, Mayor David Thompson and resident James Jordan Standing left to right: Bobbi Mills, Nursing home Administrator, Corey Chesnut, Forcht Bank Group, and Cumberland Valley District Long Term Care Ombudsman Arlene Gibson. Gibson serves as a patient advocate to residents of long term care and provides resources and guidance to residents and families of residents. Contact info for Arlene Gibson: 606-864-7391 x119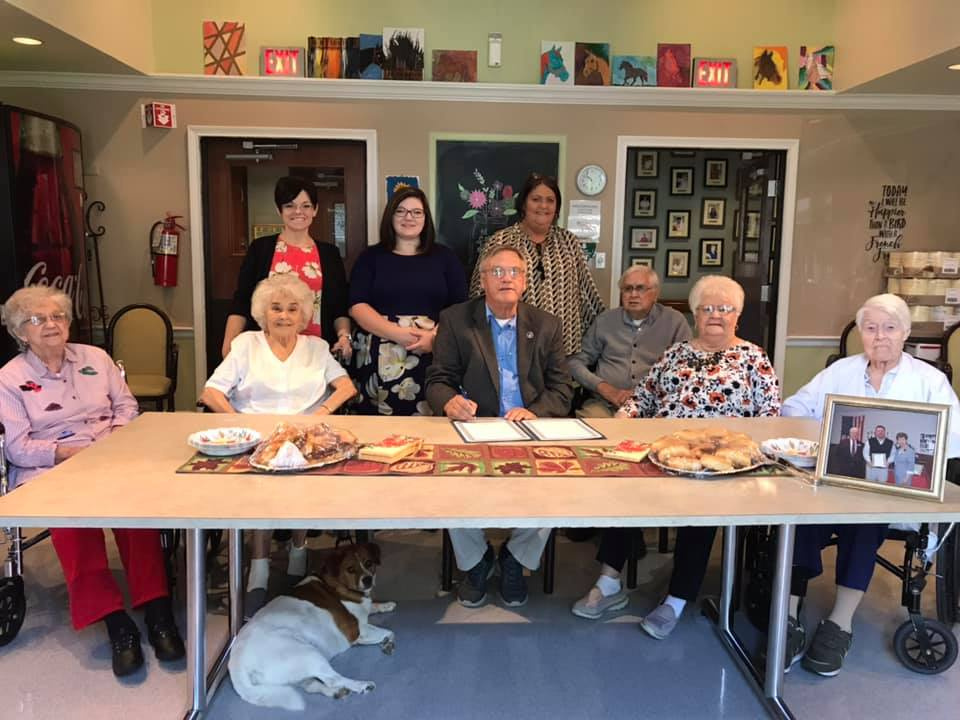 October 15, 2019 (Middlesboro, KY) - Middlesboro Mayor Rick Nelson met with residents and staff at Middlesboro Health and Rehabilitation Center to sign and declare a proclamation designating October 2019 as National Residents' Rights Month. Cumberland Valley Area Development District Long Term Care Ombudsman, Arlene Gibson, was also on hand. Gibson serves as an advocate for all residents in long-term care facilities. She also provides resources and guidance for families with concerns and questions related to long-term care, serving the eight counties and 18 facilities. Pictured, from left, back row are Melissa Robbins, Administrator, Abigail Hickey, Social Service Director, Arlene Gibson, Ombudsman. In the front row are residents Hassie Thomas and Norma Akers, Mayor Nelson, residents William Thompson, Ruth McNeil, and Mary Starr.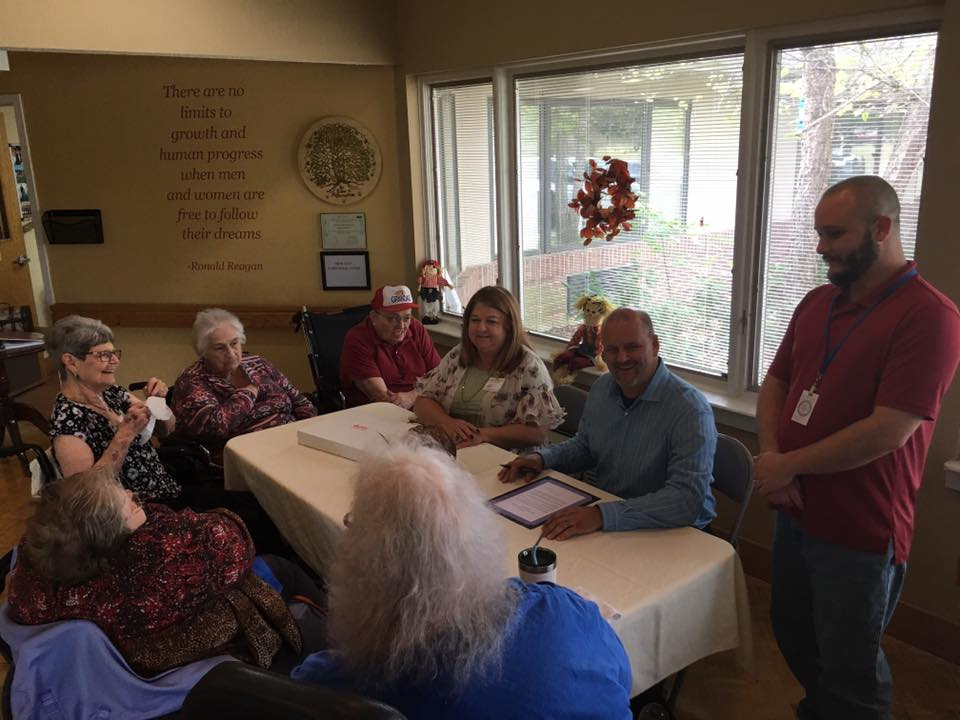 October 15, 2019 (McKee, KY) - From Jackson County Judge Executive Shane Gabbard: "I have always said if you ever getting down and out and feel like the whole world is coming in on you then take a trip to the Nursing Home. Those folks are facing hard situations to say the least and still yet they smile when you walk in the door. That's why we declared this month " National Long Term Residents Rights Month". The proclamation I signed says "Stand for Quality" on the header. This proclamation states and recognizes that even though someone is in long term care they still have their right to vote, make decisions for everyday life and so on. Presenting the proclamation was Aaron Banks with the CVADD. I met Mr Banks at Jackson Manor in Annville and we had residents on hand to wittiness the signing. It was. Wonderful welcome we received and we are proud to make this proclamation. Please keep everyone a long term care facility in your prayers." Pictured standing is Aaron Banks from the CVADD.